AUSTRALIAN DATES
We are headed to Australia in March! All dates and details
here
.
WELLER!
Eric Hilton with Brit rock legend
Paul Weller
backstage. Weller and Thievery Corporation are currently crossing paths as they each tour North America.
BLACKBOOK FEATURE
Thank you BlackBook Media
for the love
, see you tomorrow in Brooklyn.
THE TEMPLE OF I & I ULTIMATE TOUR EXPERIENCE!
Get up close and personal with the Thievery Corporation Ultimate Tour Experience. Thievery Corporation will be offering access to only 10 people per show who will get to be side stage or in the photo pit to see the band performing on their Temple of I & I North American Tour. You can also get to see them live at sound check or get to be their personal photographer in the Photo Pit at the show. If you can't make it to one of the shows then check out the limited number of personally signed items like the Temple of I & I hand screened tour poster or a personal set list from the show signed by Eric and Rob!
https://www.pledgemusic.com/projects/thieverycorporationtour
INTERVIEW WITH ERIC HILTON
Check out this interview
with Eric and the folks at Rootfire about songwriting and touring. Thievery will be playing at Rootfire Saturday, July 29th in Marymoor Park Seattle! All Ages
SPOKANE & BOISE SHOWS CANCELED
Due to unforeseen circumstances both the 7/30 Spokane, WA and 8/1 Boise, ID shows had to be canceled. If you purchased tickets to either of these shows you can get a refund at the point of purchase.
NEW DATES ANNOUNCED
Many dates all over the US now
out
! All dates on sale soon.
WIN VIP SOUNDCHECK PASSES FOR RED ROCKS!
Thievery Corporation is returning to Red Rocks Amphitheatre in Morrison, Colorado on August 5th and this time we are
inviting 100 of our fans plus a guest
to join us at soundcheck to get a taste of the setlist that night!
KENNEDY CENTER SHOW
Join us at the Kennedy Center in Washington D.C. on May 15th, along with a 22-piece orchestra, for two extraordinary shows:
http://bit.ly/KCThievery
LUAU BENEFIT SHOW
Bay Area Friends... Join me at Pagan Idol this Sunday, April 30 from 2-7pm for a special benefit Luau to raise money for the Leukemia & Lymphoma Society. Find tickets via
eventbrite.com
+ and consider making a donation to support a cancer free future at
byecancer.org
. #byecancer - Rob
BUDAPEST SHOW
Join us in fighting hunger with Conscious Alliance at our show at The Fillmore Auditorium in Denver, CO on April 21st! This amazing limited-edition poster by artist Alex Brubacher (
www.alexbrubacher.com
) will be available to the first 75 patrons who donate either 20 non-perishable food items or a suggested monetary donation to the Thievery Corporation x 'Art That Feeds' Food Drive. Visit
bit.ly/ThieveryCorp_ArtThatFeeds
for more info.
BUDAPEST SHOW
Thievery Corporation will be visiting Budapest, Hungary on June 21st! Tickets
here
.
THE TEMPLE OF I & I OUT NOW
The Temple of I & I
is now available in stores and on streaming services. You can now find it on iTunes, Amazon and Spotify. We hope you enjoy it, and as always thank you for your support. See you on the road! - Thievery Corp.
http://smarturl.it/TempleBuy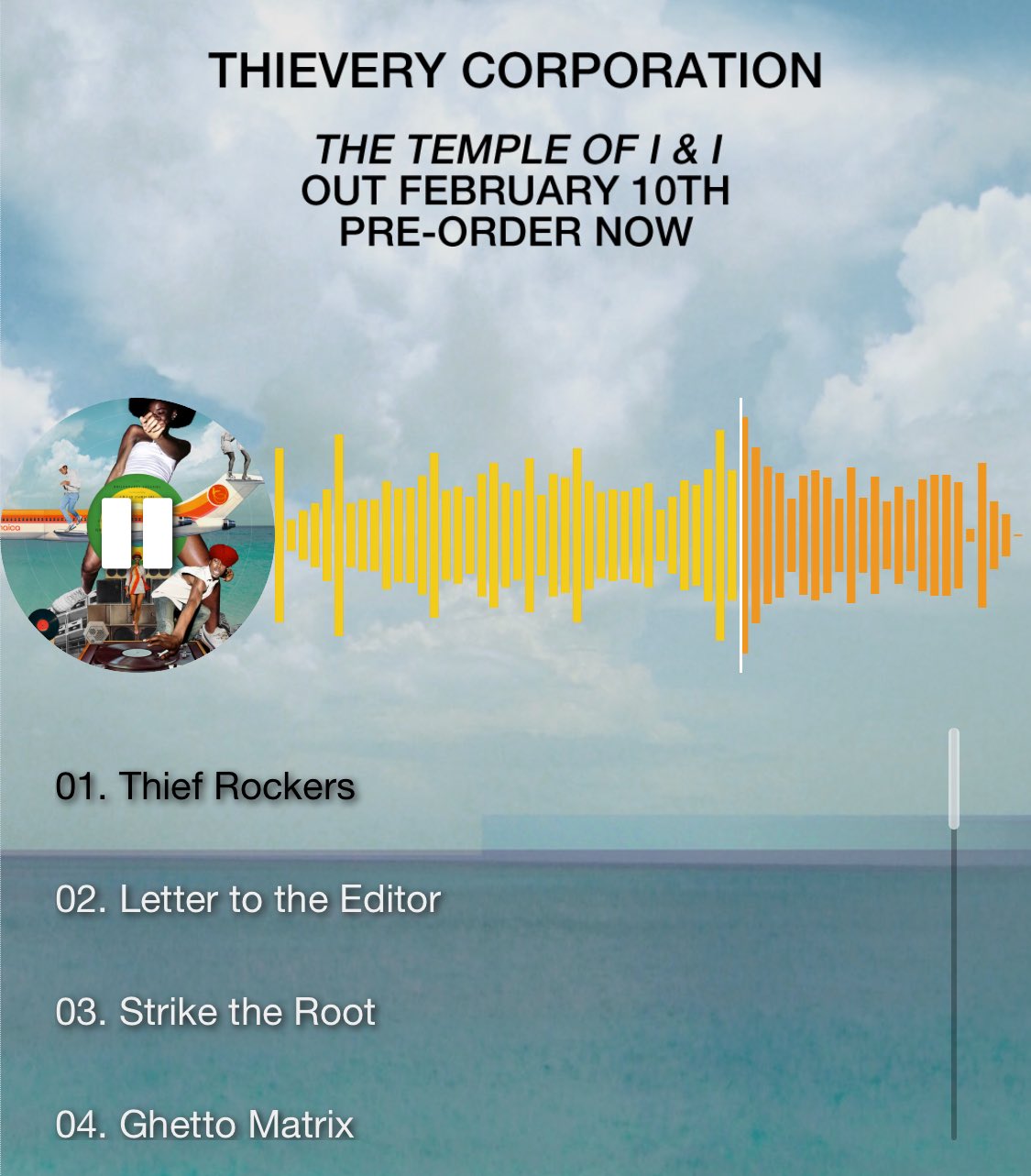 THE TEMPLE OF I & I FULL ALBUM PREVIEW
ERIC'S PLAYLIST
Want to know what Eric Hilton has been listening to? Checkout his Spotify playlist
here
.
RELEASE ATHENS
Excited to announce we will be returning to Greece and playing at Release Athens Festival on 16/6! For early bird tickets and VIP info visit:
http://bit.ly/ThieveryAthens
GHETTO MATRIX
Check out the exclusive premiere of the song "Ghetto Matrix" from our upcoming album,
The Temple of I & I
on Consequence of Sound!
http://bit.ly/TCGhettoMatrix
LIMITED-EDITION 7"
We made a special limited-edition 7" vinyl exclusively for indie record stores across the US. The 7" includes 'Letter to the Editor' & 'Let the Chalice Blaze' along with a $2 off coupon for redemption at the same retailer towards our new album, The Temple of I & I. Click the link
here
to see the stores who have it!
2017 EUROPEAN DATES
We just announced some of our European Dates for 2017!
Check them out
!
"LET THE CHALICE BLAZE"
Check out the premiere of the new Thievery track "Let The Chalice Blaze" on
PROHBTD
.
HEAR NEW SONG "LETTER TO THE EDITOR"
Excited to share the new album cover for our upcoming LP
The Temple of I & I
and announce that Jason Bentley of KCRW will be premiering a new song TOMORROW called "Letter to the Editor". Please share with your friends and tune in to KCRW's Morning Becomes Eclectic at 9:00 AM PT via this link to check it out!
http://bit.ly/ThieveryPremiere
ELECTRIC FOREST
Come join Thievery Corporation at Electric Forest in Rothbury, Michigan 6/29 - 7/2. Wristbands go on sale Dec 8 at
http://bit.ly/ThieveryEF
SPILL MAGAZINE INTERVIEW
Check out this interview with Rob Garza talking about music that makes you think in
The Spill Magazine
.
JUNGLE JAM
We're excited to announce that we'll be performing at the @Jungle Jam festival, among the tropical beaches of Jaco, #CostaRica between March 10-12. For Tickets and Information visit.
http://bit.ly/JungleJamThieves
NEW ALBUM UPDATE
Making some magic in the D.C. studio. Can't wait for you to hear the new record.
LOUISIANA
Calling all Thieves! Our friends in Louisiana need help. Donate to support Louisiana flood relief efforts win flights, hotels, and tickets to see us live at III Points Music Fest in Miami. We're using music to help the #LouisianaStrong. Show your love now at:
https://www.propeller.la/thieveryrelief
HOT AUGUST MUSIC FESTIVAL PHOTOS
ROB GARZA INTERVIEW WITH THRIVAL MUSIC FESTIVAL
Check out the #ThieveryCorporation
Thrival Festival interview
with Rob Garza. Looking forward to seeing you on Sep 24th Pittsburgh.
ERIC & MR. LIF
Eric Hilton & Mr. Lif take another little piece of the heart and don't ya know. Photo: Rob Myers
SUPPORT FOR SWEET RELIEF
In support of the Sweet Relief Musicians Fund we are offering up a side-stage VIP package for you and a friend via Charitybuzz.
Check it out
.
GREEK THEATRE DATE
Thievery Corporation with Chronixx & Zincfence Redemption - Friday, September 30, 2016 at The Greek Theatre. Doors are at 6:00PM. All Ages
On sale Friday, July 29 at 12pm
Presale Thursday, July 28 from 10am - 10pm
Password = TWENTY
Tickets at: http://bit.ly/ThieveryGreekLA
NEW TOUR DATES
A batch of new tour dates are now listed on the
events
page!
IN THE STUDIO
Pit stop in LA to lay down vocals at the Village for new Thievery material with Shana Halligan, the singer for "Depth of my Soul." She's doing a solo performance this Sat 6/25 at Teragram Ballroom to raise money for The Children's Music Fun. LA fam... Stop by and support. It's a great cause.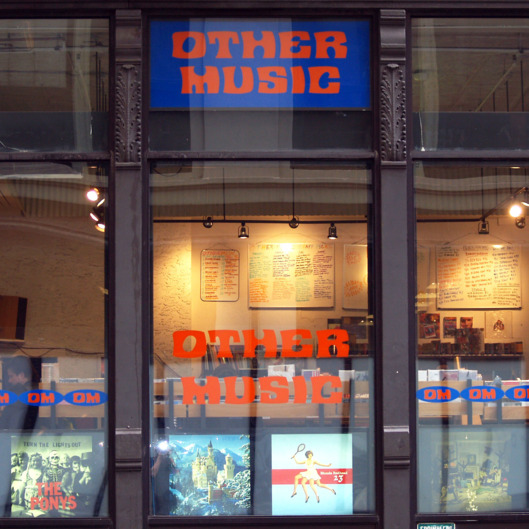 OTHER MUSIC
Thank you Other Music NYC for over 20 years of passion and excellent taste. Humbled to see we made it in your
Top 100 Sellers of All Time list
at #50 with our album DJ Kicks! You will be missed.